Furnace assembly parts are sold in quantities sufficient for 50 experiments.
Dimensional units are presented in inches and millimeters.
The following abbreviations are used:
OD-outer diameter, ID-inner diameter, L-length, T-thickness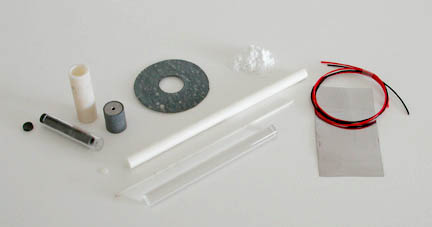 Depths of the Earth Company provides ultra-pure (99.98%) precious metals in foil, tube, wire, rod, and crucible forms for use as sample capsules, capsule liners, and calibration materials.
Alloy products undergo rigorous in-house quality control to insure that grain size homogeneity and chemical distribution is consistent over a 1000 micron scale. Thermocouple wire is calibrated and certified.
KEY FEATURES:
Up to 99.9% purity
No minimum order required for in-stock material
Fast delivery times for in-stock materials
Custom orders within 4 weeks
IN-STOCK AND SPECIAL ORDER INVENTORY INCLUDES:
Platinum
Gold
Silver
Platinum-Gold (Pt95Au5)
Gold-Palladium (Au70Pd30, Au75Pd25, Au80pd20)
Silver-Palladium (Ag50Pd50, Ag70Pd30)
H2 membranes (Pd75Ag25)
Nickel
Titanium
Boron Nitride
Graphite
Stainless steel
Thermocouple wire: Platinum-Rhodium and Tungsten-Rhenium alloys
TECHNICAL SPECIFICATIONS IN-STOCK MATERIALS:
Tolerances (all dimensions ): +/- 0.3mm (0.001")
Foil thickness: 0.076mm to 0.2mm (0.003" to 0.008")
Tubing OD: 1.6mm to 8mm (0.63" to 0.315")
Tubing Wall thickness: 0.1 to 0.2mm (0.004" to 0.008")
Rod OD: 1.6mm to 8mm (0.63" to 0.315")
Wire OD: 0.25mm to 1.52mm (0.01" to 0.06")
Crucibles: 10mL, 20mL, 30mL, 50mL with and without lids
Thick wall Reaction Capsules with Caps: 3mm to 8mm (0.118" to 0.315") OD, 0.127mm (0.005") wall thickness